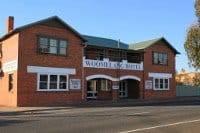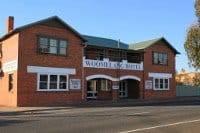 Opening days
Wednesday to Sunday
Lunch is available Friday to Sunday
Dinner is Available Wednesday to Sunday
A truly family friendly pub with newly renovated Bars and Dining Areas.
On offer is a traditional Pub Menu with nearly all the food prepared in house boasting fresh home-made pizzas as well as regular international themed cuisine nights.
Meals are available over the bar or in our cosy 44 seat dining room or where ever you feel inclined to eat.
There is a massive landscaped beer garden with nearly 300m2 of lawns and a playground for the kids.
The large lounge area includes a full size pool table and juke box with full surround sound.
Caravaners are more than welcome to park in the massive back yard and come in to enjoy a meal or a refreshing drink or even try our delicious fresh ground coffee imported directly from Papua New Guinea.