The Silo Art Trail celebrates regional Australia in a modern and accessible artistic context. The silos have been strategically selected for maximum visual impact and to ensure visitors have the opportunity to engage with multiple communities and outback tourism destinations in the Wimmera and Mallee region.
Historically, silos are a place for the farming communities to come together during harvest, exchange news and stories and re-connect with old friends while the grain is unloaded. Of late, changes in the agricultural industry have led to many communities losing active silo sites. The Silo Art Trail has provided an opportunity to reinvigorate decommissioned sites and celebrate local communities and farming history. The Silo Art Trail will continue in with murals created in Lascelles and Rosebery. 
---
BRIM
Guido Van Helten captured the imagination of Australia in December 2015 when he undertook a gigantic painting on the Brim Silos. The Brim Silo Art generated inspiration for the Silo Art Trail and Guido's mural will remain an iconic tribute to the farming communities of the Wimmera and Mallee region.
LASCELLES
Renowned Melbourne Street Artist Rone has depicted the faces of Lascelles couple Geoff and Merrilyn Horman. Geoff and Merrilyn's families have lived and farmed in the area for four generations. Born in the district, the couple married in Lascelles in 1967 and together with their two sons (and their own families) have continued the family traditions of wheat farming and strong community involvement.
PATCHEWOLLOCK
Fintan Magee is a Brisbane based street artist who painted the Patchewollock Silos in October 2016. Local farmer 'Noodle Hulland' was chosen for the inspiration of the artwork because he was slim enough to fit the two narrow silos and had "that classic farmer look", embodying the locals' spirit.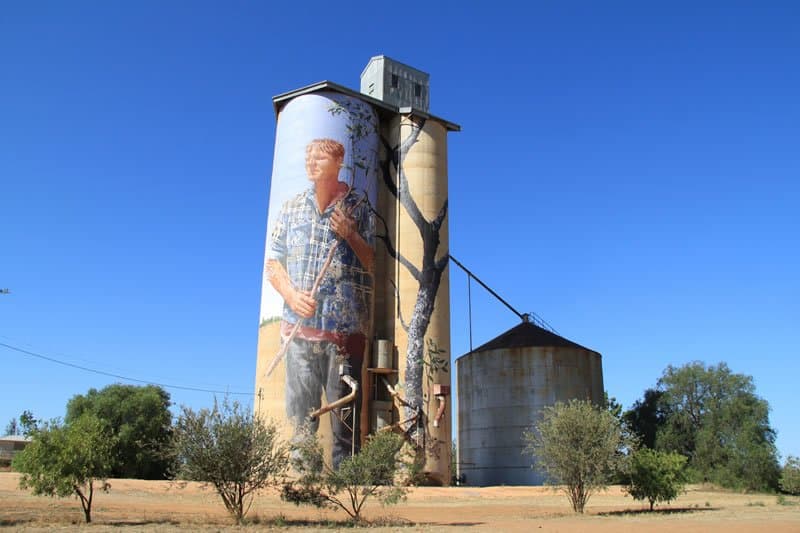 ROSEBERY
Take some time out in Rosebery to see this piece of silo art by Melbourne street artist Kaff-eine. After assisting Rone on his work in Lascelles, Kaff-eine has created a towering artwork of her own, where the past and present of Mallee meet as one. The silo on the left depicts a young, female farmer, symbolising the future of farming in the region. On the right is a man and his horse, sharing a quiet moment of contemplation and peace, together.
RUPANYUP
Russian Artist Julia Volchkova is actively involved in the graffiti and street art movement in the places she travels and is currently undertaking the huge metal grain storage bins in Rupanyup as part of the Silo Art Trail. Julia's work focuses on portraits and the Rupanyup Silo Art mural is inspired by the Rupanyup Panthers Football & Netball Club.
SHEEP HILLS
Adnate is an internationally renowned street artist, famous for his work with Aboriginal communities across Australia and completed the mural in December 2016. The four indigenous faces now watch over the tiny community of Sheep Hills and the starry background of the towering portraits has symbolic significance to the local people.