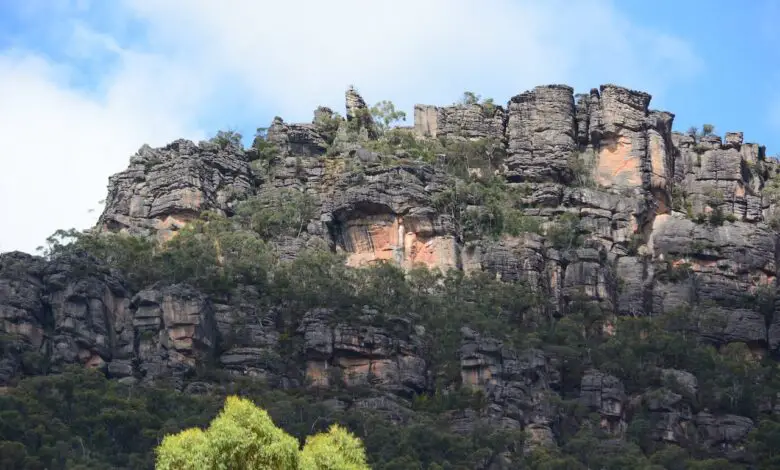 10 Of The Best Hikes In The Grampians
The Grampians is a destination for adventurers who want to immerse themselves in its rich history, varied landscapes and scenic trails. We will take you on a journey through ten of the most remarkable hiking spots in the Grampians. We'll provide insights into their history, safety precautions, suggested gear and other important information.
Mount William (Duwul). Let's start our journey at Mount William, which is the highest point of the Grampians National Park. 

The moderate 2km hike from the carpark will take you to the summit, which offers panoramic views of Pomonal and Moyston as well as Ararat.

 

Bring sturdy shoes, sunscreen, a sun hat and lots of water to make the most out of this hike.

The Balconies / Reed Lookout. Next we visited two stunning locations that are accessible from the same parking lot. 

Both the Balconies, and Reed Lookout are only a 2km stroll apart. They both offer stunning views of Victoria Valley and its surrounding ranges.

 

Wear comfortable clothing, and bring a camera with you to capture the breathtaking landscapes.

Mount Abrupt (Mud Dadjug) Walk The Mount Abrupt Walk, for experienced hikers looking for a challenge is a must.

 

This 6.5km hike takes you through woods and onto a rocky ridge.

 

It is best to do this hike in the spring or early summer, when the weather is nice.

 

Do not forget to bring hiking boots, maps, and first aid kits.

Mount Rosea Loop Walk Mount Rosea Loop Walk – If you are looking for an adventure that will last all day, this is the walk for you.

 

This 12km round-trip hike allows you to explore less-traveled parts of the Grampians.

 

This trail's highlight is the spectacular 'Gate of the East Wind'.

 

Always carry water, snacks and a raincoat. Also, make sure your phone is fully charged.

Pinnacle lookout is one of the most popular hiking destinations in the Grampians. It offers breathtaking views of Halls Gap, and surrounding peaks. 

Hikers can select from three different trails of varying lengths and grades.

 

Wear comfortable hiking shoes and carry a map of the trail. Also, pack essentials such as sunscreen, insect repellent and a hat.

Hollow Mountain (Wudjub Guyan) is an excellent choice for energetic and fit walkers looking for a thrilling experience. The Hollow Mountain walk, located at the northern end of the Grampians National Park, offers a challenging adventure.

 

This hike requires rock hopping and scrambling as well as navigating slippery tracks.

 

Wear sturdy shoes that have good grip. Carry a headlamp and extra clothing layers for changing weather conditions.

Venus Baths Loop The Venus Baths Loop is a 2.3km easy track that crosses Stoney Creek by a charming little bridge.

 You'll also pass by the Botanic Gardens, which offer a peaceful escape in the midst of nature. 

Wear comfortable shoes and bring a water bottle. Enjoy the tranquil atmosphere.

The Piccaninny Walk (Bainggug). Located in the southern part of the Grampians National Park is the Piccaninny. This walk offers an easier hiking experience.

 

This trail offers a spectacular view of Mount Abrupt, also known as Mud-Dadjug and Dunkeld.

 

Wear comfortable clothing and bring a camera. Binoculars are also a good idea for bird watching.

Mount Sturgeon (Wurgarri). For those seeking adventure, this trail is not for you.

 The estimated 3-hour hike back involves rock-hopping and slippery surfaces. It is therefore important to wear sturdy shoes with good traction. 

Bring enough water, a walking pole for stability and a cell phone in case of emergency.

Boronia Peak Trail The Boronia Peak Trail is the last but not the least. It rewards hikers who complete it with stunning views of Lake Fyans, and the surrounding picturesque countryside.

 

The trail is rocky and requires hiking shoes. Bring plenty of water and a camera for the breathtaking views.
Safety is paramount when you are . Be sure to check the weather, tell someone your route and consider your limitations. Respect the environment by following park rules, staying on designated trails, and disposing of trash responsibly.
The Grampians offers a wide range of hiking opportunities, as well as breathtaking landscapes. Pack your gear and lace up your boots (and GPS device) to embark on a journey of discovery through the natural wonders in this beautiful Australian region.